Restaurant Success Case Study - Part 1
How to Get More Bookings from Your Website
Welcome to the First Part in our Case study of how have helped a wide range of restaurants  increase their revenue by up to 40%
In this case-study will outline some proven strategies, the strategies all come from a Framework developed by Patrick Cumiskey as part of an MBA, during this project he set to develop a strategy that independent restaurant owner can use to grow the business. He combined his background in building a business with over 80,000 customers with leading-edge thinking in Digital Marketing and customer loyalty psychology all focused on the unique challenges of bringing customers to a restaurant.
The framework was developed by working for over 8 months of' hands-on' in an underperforming restaurant. Using the framework the restaurant quickly increased repeat business, achieved a top 10 rankings on Trip advisor and increased booking from their website.
The Restaurant Profit Machine
The framework, now called the "The Restaurant Profit Machine' is summarised below.
It has 3 major major focus areas
The Foundation focuses on converting website visitors to the customer and ensuring they return, the Acceleration section, focuses on ongoing repeat business, using social media to attract new customers and generating 5* reviews on review sites which in turn leads to new customers. The final Momentum Phase helps restaurants with a good customer flow capitalise on their efforts to get the long term results they deserve.
Limited Availability
We have now helped over 15 restaurant use this system, due to the massive and unique competitive advantage we must limit the usage the system by area and as a result, we only work with motivated and committed independent restaurant owners. Use of the system is by application.
if you feel this could be right for your restaurant you can request an initial fact-finding call below, or by contacting Patrick Cumiskey at info@customerboomermang.com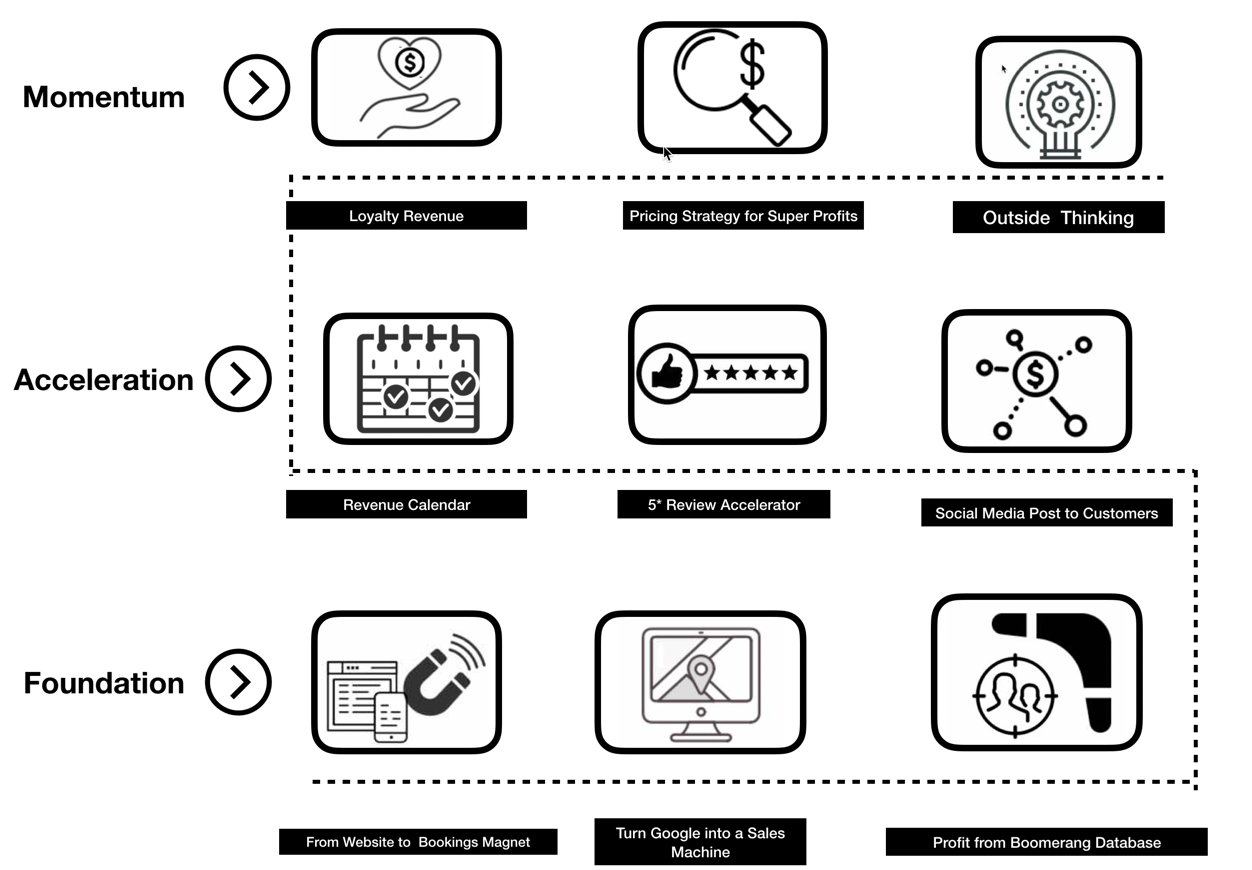 How to Get More Bookings from Your Website
Most people who visit your website are not coming to book, in fact research shows on average 73% of people who visit a website do not intend to take action.
Leaking Customers
This means that most Restaurant websites are losing a lot of potential sales. Many of the people who visit a restaurant website are just checking it out, they may be researching a restaurant for another time, having a look at the menu because of a review or recommendation or just come across it through browsing
They are not thinking about booking a table but simply gathering information, the problem is once they leave the website the will most likely forget about it, and when a restaurant needs to be chosen they will go with habit, convenience or the restaurant most recently in their mind, most likely this will not be your restaurant. 
By failing to engage with these potential customers many restaurants are leaking customers and revenue.
The approach we recommend converts more first-time website visitors to  customers and also follows up with visitors who do not book straightway so they eventually become customer, days or even weeks after they visit the website.
Hook the Customer with an Offer
To get these results we must 'surprise' and hook the potential customer with an incentive that encourages them to choose your restaurant over any others they are considering.
An offer that has a very good response rate is a Free Round of Cocktails when the customer books a Dinner.
Here is an example of an incentive that has worked very well for a number of our clients. The example is "Red Torch Ginger", A modern thai restaurants which serves traditional Thai food in a contemporary environment with great cocktails.
In this case when the customer visit the website a message popups and offers them a Free Round of Cocktails when they book dinner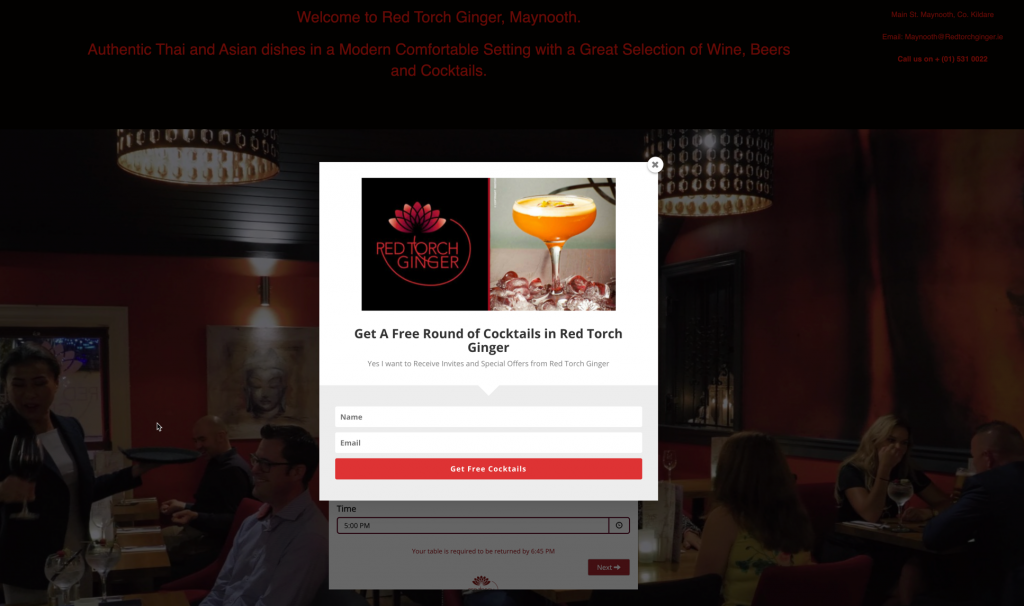 To enjoy this offer the customer must provide their contact email, and they will then receive an email allowing them to avail of a Free Cocktail when they book Dinner. Our system provides a special offer booking link so the restaurant will know the customer has opted to take up the offer
They can book straight away and enjoy the offer or at a later date, our system automatically follows up with customers a few days later to remind them about the free welcome drink.
This increase booking rates from first-time visitors but also allows you to follow up with visitors who do not book straight away, encouraging them to book days or even weeks and months after they visited your website. 
So this offer increases sales from existing website visitors but also builds a database of a potential customer which can be marketed to over time, this approach changes the website from being a 'passive' brochure hoping customers book into an automatic sales system bringing new customers in every day.
Why This Works
Most people who visit you're a restaurants website won't book, they will leave and not return. 
By providing the booking incentive you are giving the customer more value and a better overall experience (free drink!) you also have the contact details which allow you to email them with more information about your business creating a better understanding of what you offer and creating familiarity.
This approach has been enormously successful for every restaurant who has used it
Understanding the Numbers
Let's take do deeper on the finances of this offer.
In our experience 10-15% of the people who visit a website register to receive our incentive offer, of this, 30% take the offer within a month and they book for an average of 4 people
As an example imagine 100 people visit your website.
Some will book because they already know the restaurant and that's the reason for their visit but other may be just looking at your menu or checking you out for possible future visits, this particularly the case in central locations or where there is a lot of passing visitors such tourist areas or locations with sports or business events.
These people just leave and most they will forget about you or choose another option.
Based on our research if you provide a good incentive offer, 12% of people will provide their details....With 100 visits a day that's 12 Signups a day, giving 360 in a month
30% of the signups convert into bookings, so that creates 110 bookings in the month and as we said we see an average of 4 covers per booking that 440 covers per month
Let's say the average spend is €35 per head, this gives revenue of €15,400 revenue (440x25)
This equates to €184,000+ per year, from on single strategy For or sample client this the equivalent to two extra packed Saturday Nights a month.
20,000 Customer Database
The client from which this has example is taken generated a customer database of almost 20,000 customers who have signed up to hear from then, meaning they heavily influence their customer flow.
For a restaurant where they are already fully booked on a certain day, is also possible to limit the offer to certain days and times, to move customer to lower usage period.
Lets Summarise
Most people who visit a restaurant website will not book straightway, by capturing the details you can follow up with them in the get the vist your restaurant in the short or medium-term.
Once their initial visit is complete you still have the details so you can encourage repeat business over the long term.
By capturing the customer details you increase sales in the short term but also create an asset .. a customer database that increases revenue well into the future.
In general marketing terms, this strategy is called a Customer Funnel and research has who that business who use funnels have 450% of leads and 50% more sales than those who don't
Get Started
This is just one strategy we help restaurants implement , if you would like a talk to us about how we can help you increase you restaurant revenue using our ready do go system simply fill in the form below and we will be get right back to you.